Why Is YouTube a Promising Platform?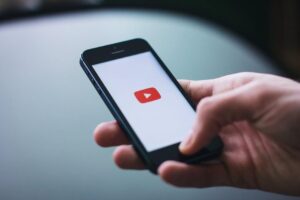 YouTube constitutes for almost one-third of the internet, around 1.9 billion users logging in every month. That's a lot of people.
More specifically it reaches out to people from a variety of demographics. With video production becoming cheaper and creative, YouTube stands as a great platform for brands as well as common people to build a strong presence.
It is obviously a smart decision to incorporate YouTube into your marketing strategy because it is an investment that will bear fruits.
How To Set Up a YouTube Channel?

1.Sign Up With Google
A super easy process, almost as easy as setting up your email. Go and sign in to YouTube with your Gmail. Head over to your YouTube settings and click on the link to 'Create A Channel'. Further, you'll have to choose a channel category(personal, brand, company, art, etc.).
Then just think of a great name for your channel and you have yourself a YouTube Channel!
Next, lies a great opportunity to optimize. You have a space on your channel to write a little about yourself and the content you share on YouTube. Since this is indexed by search engines, you should try to include keywords and CTAs in the opening lines.
2. Get Creative
When a viewer finds their way to check out your channel, they will be most impressed if a great visual greets them. YouTube's channel art is where you share your personality with the audience, so better make it aesthetic.
Ensure you include all the relevant information (branding, text, taglines, and key images) about yourself in this art smartly, for always displayed as the face of your channel on any device.
Be sure to include all important links in the bottom right corner, such as your website and social media.
3. Make a Trailer
Creating your channel trailer makes a good introduction for new visitors. By this, your audience can understand who you are and what kind of content they can expect to see in the future. Your channel trailer will be a preview of how your videos will be like, so make sure you make it well.
4. It's Time for Your First Video!
Filming and editing your first video, must be a surreal experience. Now it's time to finally put it out there for the world to see. You'll find the upload option at the top right of the screen when you log into your account.
There, you are officially a YouTuber. Now to be a successful one, it's a long journey ahead.
How Do YouTubers earn money?

Understand that to make money on YouTube you need to be an established presence with some minimum requirements.
Starting with The YouTube Partner Program, you can get access with a lot of cool features such as Ad Revenue, YouTube Premium subscription fees, Super Chat, channel memberships, and merchandise shelf.
To join the program, you need a minimum of 1,000 subscribers and 4,000 watch hours in the previous 12 months.
So firstly, you will have to set up an AdSense account. It is fairly simple.
To earn ad revenue, you must be at least 18 years old and must create content that is advertiser-friendly. That means, the less controversial your content is, the advertisers will feel more comfortable to use your channel.
If a YouTube Premium member watches your video, you get a part of their subscription fee, which is a great bonus.
If you have more than 30k subscribers, you are enabled to sell channel memberships to them.
You can access YouTube's merchandise shelf and sell merchandise with 10k subscribers.
Another interesting feature is the Super Chat payments, that is fans can pay to have their messages highlighted in your live chats during live streams.
It's always a good idea to monitor that you abide by community guidelines and copyright law.
You must have seen on many channels that creators make sponsored videos. You can directly negotiate with a brand and get money.
Hence it is quite clear that YouTube has a lot of opportunities to earn decent money from. But the question is how to get noticed by users and brands?
Marketing Your YouTube Channel

1.Market Research
The basic step of any marketing strategy is research. The golden rule is the more you know your market, the more you will succeed. In the case of YouTube, your product is your content.
As important it is to understand your own capabilities, it is just as vital to know what the audience wants. If you are a brand, reviews, and testimonials and innovative applications of your product/service can be the kind of content your viewers might want to look at. You could create content specifically for your target demographic, enhancing consumer engagement.
2. Optimization
Almost like Google, YouTube has become a search engine, which calls for the need for optimizing your content.
The title, description, and tags of your video are major components to optimize, so make sure to include relevant keywords in them.
With a highly optimized video, you can extend your reach on YouTube as well as Google.
Top Digital Marketing Trends in 2022: What to Expect in the Next 5 Years
3. Consistency
Much like your usual content SEO, consistency is the key. Success doesn't come overnight, especially on YouTube. You need to maintain your visibility by uploading regularly. This takes time and effort, but the solution to that is planning in advance. Keep your creative strategy ready for the next videos.
4. Promotion
Go all out for the promotion of your videos. If you have a website, utilize the space. Write blogs and include your videos in them. Use various social media platforms such as Facebook and Instagram, to promote your channel and content. Linking your social media presence will get more visitors and viewers.
5. Analysis
YouTube Analytics will help you understand how your content is performing. It will tell you who is watching when they are watching and what are they watching. Comparing performances, you will be able to head in the right direction of optimizing your videos in the future.
What is the Difference Between Web Design and Web Development?
6. Build A Connection
A key to the success of a YouTuber is engaging and connecting with their viewers. Replying to their comments, taking polls, suggestions, giving shout outs, and conversing with them builds a great relationship. Forming a community and loyalty will secure any future prospects you have for your channel.

YouTube is a great career choice as well as a marketing platform. Surviving in the immense competition may seem hard, but as long as your content is sincere and well marketed, you can expect a shining future.
Also Read: What Does a Video Production Company Do? Everything You Need to Know in 2022