Pinterest is no less than a treat to the eyes of all creators out there. This visual gallery is a wide assortment of ideas and inspiration for one to browse through. If your business is providing the ideas, you got to make sure that they are the best and there are a lot of them. With Pinterest usage spiking, you have an attentive and curious audience ready to be targeted.
What Does a Digital Marketing Agency Do? Everything You Need To Know in 2022
Why Pinterest?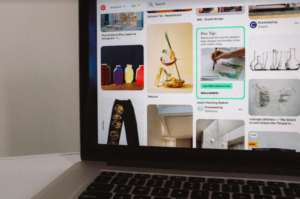 Source: Unsplash
Pinterest is a perfect mix of social media and search engines. It is where people come to discover new ideas, explore options, get inspired, and plan further. In the process they create an efficient platform for creators, bloggers, and brands to showcase their work, thus answering queries of the audience. Pinterest allows the pins to be redirected to the main website and be linked to other social media sites, hence ensuring organic traffic. If your brand is right for Pinterest marketing then it will not only promote your website effectively but create a community and establish constructive networking.
Top Digital and Online Marketing Advertising Strategies for Restaurants Business
What Does Pinterest Look Like During the COVID-19 Pandemic?
Pinterest recently released a COVID-19 content guide for brands which gives a picture of what audiences are looking for right now and how brands should adapt.
To sum it up, people are coming to Pinterest for inspiration more than ever. As they try to adapt to the new normal, the nature of searches has changed accordingly. Calming quotes, artistic ideas, how to deal with boredom – searches similar to these are trending. Users now rely on brands for these and expect to be positive, relevant, empathetic, and visually appealing.
We start with
Remembering the Basics
Find Your Niche
Source: Pinterest.com
Using your Pinterest business account you can find out what are the popular niches trending at that time. It will also give you a comparative study of how much traffic is each niche gets. According to that, you can position your pins and form boards to gain traction. But keep in mind it needs to be relevant.
Digital Marketing Strategies, Ideas for Franchise – Complete guide in 2022
Regular Pinning
Make sure you post pins regularly, almost 5-30 pins a day. Post them spread throughout the day and find a balance between repinning and unique pins. It is advisable to create a calendar for the same, just like you make for your other social media platforms.
Pinterest SEO
Source: innenleben-design.com
Just like you would do it for a website, remember to optimize your pins. It is fairly easy; starting with keyword research and framing pin titles, pin descriptions, and image file names with appropriate keywords. These small things will go a long way in making your brand more visible to the users.
Digital marketing vs. traditional marketing: what's the difference
Link, Link, Link
Source: spreadshirt.co.uk
Along with keyword SEO, make sure you link your website, social media, and other relevant sites to your pins and account. Vice versa, add pins to your sites as well. This enhances the interaction of users and brands.
High-Quality Images and Videos
Source: mammilade.com
Anything that is visually attractive catches the eye. Apply the same logic and make sure you post high-resolution pins only. Use an optimal pin size, not too big and not too small. Make it colorful, expressive, instructive, and graphical: mainly conveying information quickly and effectively.
Study Pinterest Analytics Regularly
Source: blog.hootsuite.com
Pinterest has a wonderful feature to make it easy for businesses to track their performance. 'Pinterest Analytics' gives all the information you need about your most popular pins, most saved pins, and audience demographics. Studying this from time to time will keep you updated and help you grow your business in the right direction.
Social media marketing services
Engage with Your Audience
To actually connect with your audience, you need to show them that you are responsive to their needs. Respond to their comments, comment on their pins, collaborate with other brands, and invite people to pin to your boards. Build a community, giving your brand the creative space and attention it needs to flourish.
The Extra Mile
What to remember while adapting your Pinterest strategy to the current scenario?
Enlighten and Create Trust
In the times where misinformation is rampant, position your brand as a reliable source. By providing authentic, verified information earn your audience's trust.
Build a Compassionate Connection
It has been a difficult year for all of us. The audience expects brands to be empathetic to their troubles. Use your Pinterest platform to spread positivity and hope. Mindless advertising will not be appreciated. Instead, be sensitive to society and tap into the emotions of your audience.
25 Restaurant Local SEO Tips and Strategies to Boost Your Online Presence
Provide A Virtual Escape
Understand what people are looking for. By creating relevant content, encourage and inspire users to try out new things. Divert their mind from all the negativity and provide a virtual escape out of their monotonous schedules. Make full use of Pinterest's new feature: The Today Tab and try to get your content featured on that.
Rearrange Your Boards
Source: www.afloral.com
By analyzing user data, figure out what they want. Put your most popular and relevant boards on the top so that visitors will see your best content first, creating a good image. It is important that you create boards according to the scene, so creating boards relevant to the pandemic will work better.
Initiate Influencer Relationships
Spot influencers in your field and connect with them on Pinterest. By re-pinning their pins and commenting on their boards, build your way towards collaborations. Posting each other's boards or creating a collaborative board will help you get newer audiences. Moreover, you can take these collaborations forward on other social media platforms.
To Conclude
,
Pinterest is a great source of promoting your brand and getting organic, quality traffic for your website hence don't compromise on your Pinterest marketing strategy. If you don't have one, don't waste any time and go make it at once!