Today, Amazon has become an irreplaceable part of our lives. One of the giants of e-commerce, Amazon has spread its arms to affect almost every part of our lives. Known as an eminent economic and cultural influence on the world, it plays a huge role in the disruption of well-established industries through technological innovation and mass scale.
Source: Amazon
World's largest marketplace, Amazon is also a live-streaming platform, AI assistant provider, and cloud computing platform. It is the largest internet company by revenue in all of the world.
How Did Amazon Start?
Source: Bloomberg
Founded in Bellevue, Washington by Jeff Bezos on June 5, 1994, the company had a quite humble start. From a mere online marketplace for books, It later expanded to sell electronics, software, video games, apparel, furniture, food, toys, and jewelry.
Further, it diversified into cloud computing, AI technology, logistics, and video streaming.
Growing to become one of the world's most valuable companies, Amazon's history is quite colorful.
Digital Marketing Strategies for Hotels and Homestay Industry (2022): Tips to Increase Bookings
The Size of Amazon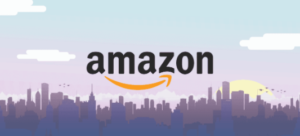 Source: Style Sage
The real question should be How Gigantic is Amazon? Because it is HUGE. In almost every country, it is leading in e-commerce by leaps and strides. A go-to destination for online shopping, it is one of the most visited websites, ever.
Amazon Web Services make up the dominant cloud services provider, its most profitable venture. AWS, with estimated operating margins of 26%, brought in $9.2 billion in profits in 2019—more than half of Amazon's total.
It's subscription service, Amazon Prime crossed 150 million paid memberships this year.
It also owns more than 288m square feet of warehouses, offices, retail stores, and data centers.
With an exceptional market capitalization of $1 Trillion, it reported $280.5 billion revenue and $11.58 billion net income. Amazon's market cap has grown by 2,830% over the last decade.
A major employer worldwide, it has given jobs to 840000+ people.
Sustaining through the coronavirus pandemic, Amazon is one example to show growth despite the lockdown.
How did Amazon get this Big?
Source: Business Insider
Amazon's success story is something to learn from. Its customer-oriented strategy not just boosted its sales, but earned their loyalty. With impeccable customer service, it provided a range of tools and measures of tracking, returning, and comparing. By bringing simplicity and convenience, it truly enhanced consumer experience.
Through innovative ventures and practices, it garnered exceptional results. Amazon made smart investments in futuristic technology and created significant demand.
When most companies concentrated on planning, Amazon focused equally on execution. By curating products specific to people's needs and wants and giving additional discounts it made shopping into an experience.
It has built distribution centers all across the globe and hence could ensure swift deliveries.
From a humble online book store, It now offers a wide variety of products and services. This includes music, books, electronics, health and beauty, automotive, grocery, and clothing. Moreover, with Amazon PrimeVideo it provided entertainment services as well.
By understanding consumer concerns, it works towards giving unparalleled satisfaction. This means fulfilling needs that the customers don't even know they have.
What Does the Future Look Like For Amazon?
Source: Consumer Reports
For a company having survived the pandemic, not just survived but thrived through it, the future looks promising. The pace at which Jeff Bezos is developing technology, Amazon may end up owning at least a part of the internet. Put in the upcoming 5G revolution and you can only imagine how grand things can get. As if it hasn't gotten everywhere, Amazon still has a few industries to tap such as pharmaceuticals. In newfound health and environmentally conscious world, we might see the world's biggest online retailer make some significant changes.
The Amazon story is inspiring and important as not only does it affect businesses but also consumers. Our purchasing habits have been remarkably influenced by the enterprise. It's recent initiatives and ventures just show that it has no plans of slowing down.